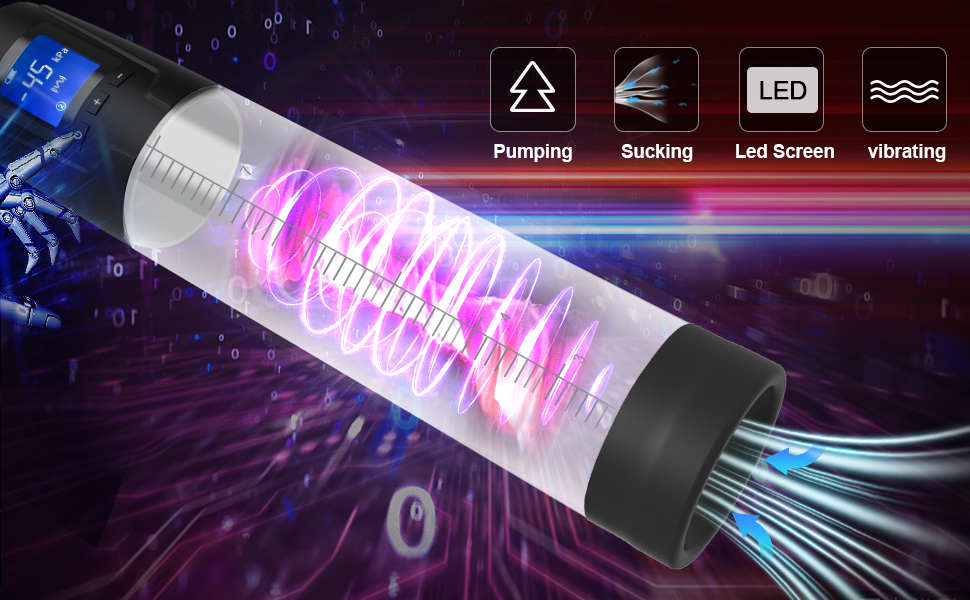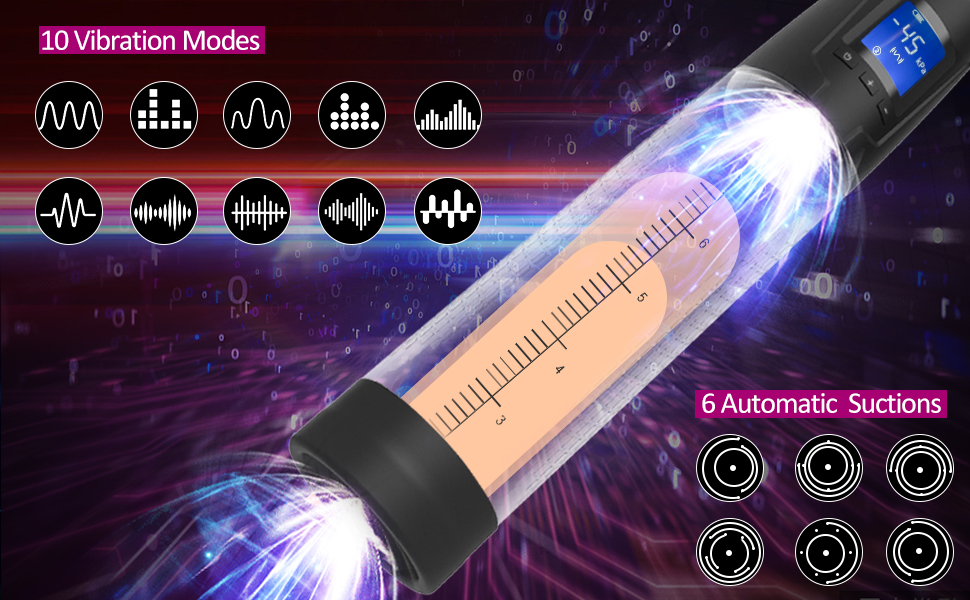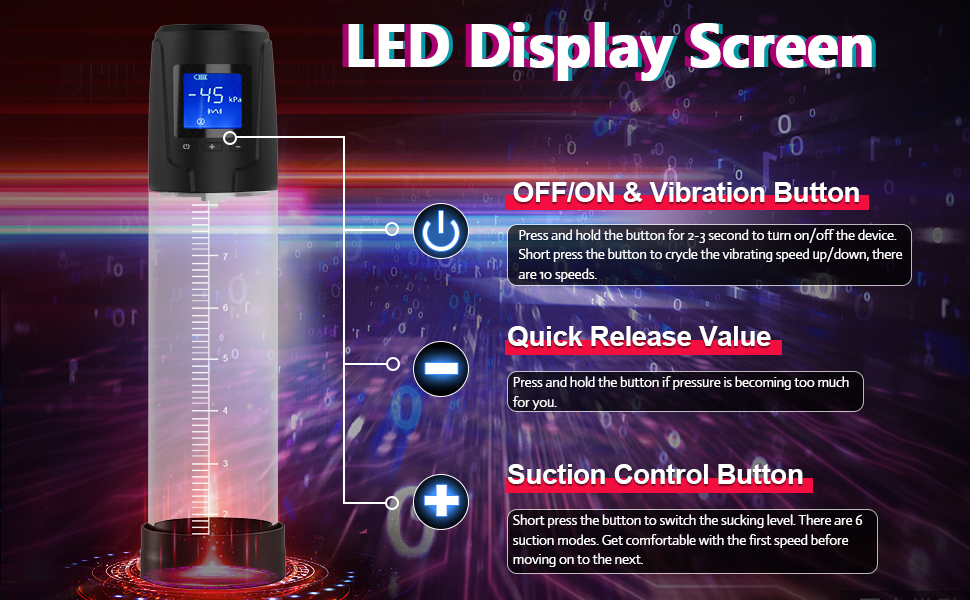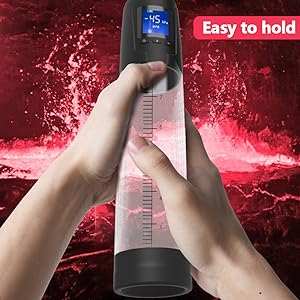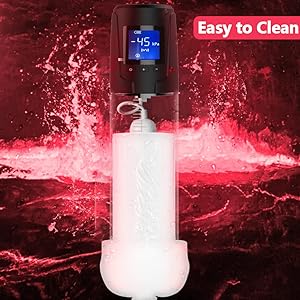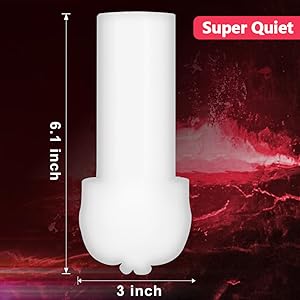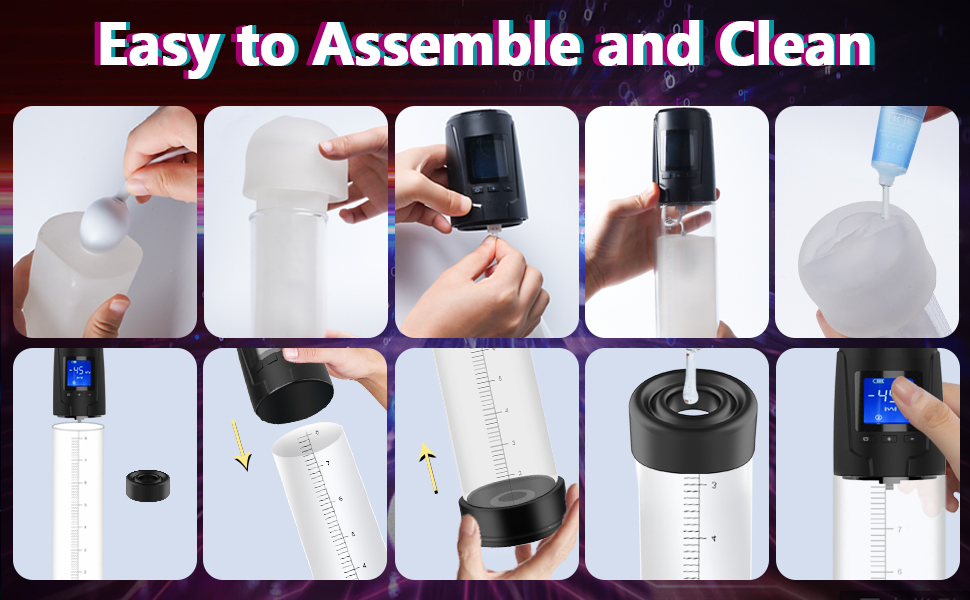 Enhance Stamina Intensity: Penis pumps are designed to create a vacuum to improve blood flow to penis that can help to create healthy, firm erections. This automatic rechargeable vacuum penis pump takes the effort out of things by completing the action for you. By using the it regularly you are giving penis the full power it deserves. Unlike a manual penis pump that lets you do all the work, it just wants you to sit back and completely enjoy the results.

Experience 6 Automatic Powerful Suctions: The steady yet powerful suction granted by this penis pump. Simply put your member inside, lie back as the six levels of suction get to work. You have the ability to stop the increasing force at any point, so finding your level of comfort is as easy as pressing a button,simply press the quick release button rapidly to find a comfortable level or keep it pressed to release the vacuum completely.

10 Vibration Modes for you to explore: This is more than just a vacuum pump – it comes with a detachable egg vibrator which plugs into the bottom of the vacuum head. There are 10 different vibrating intensities to choose from. The LED screen is clear and easy to understand what to do, lets you ramp up or decrease intensity instantly. Please do not worry that the vibrations would be to intense at the tip, honestly they are just right!

Doubles As A Sucking Masturbator: This penis pumps for men enlargement pump included a vagina shaped silicone sleeve and a black seal. Made from soft material, the silicone sleeve is extra-tight to better support your shaft and boost your enlargement pump's suction abilities even more. Once in place, it not only cushions and protects your skin, but also ensures a nice tight seal against your body.

Fun to Use and Easy to Clean: Start out completely flaccid, add lube to penis, turn the penis enlargement pump on, place the tip of penis in the sleeve and let the pump do the rest. In a short amount of time you will be longer and thicker than your normal erect state. The top and silicone opening can be removed in an effortless cleaning routine after use. For whatever reason you're using it, be safe and enjoy it.
x 6-pattern sucking plus 10-frequency vibrations
The pump comes with 6 different suction rates to assist in achieving full length. The tight o-ring sleeve makes it easy to keep the blood flowing for the required time to see benefits, and it also has the nice side-effect of preventing nearby areas from getting sucked in by accident. The release valve also works as well as you want it to, so there's no worries about things getting out of control. Due to the tightness of the o-ring, lube is a necessity to get a comfortable fit for your member, but that's not much of an issue as the toy comes with a free tube alongside a spare o-ring.
Realistic soft sleeve and internal passages
Transparent cylinder bridges a black handle with a powerful motor embedded and an ultra stretchy TPE sleeve which is heavily textured inside. The seal on the sleeve remains tight and intact at all times, so there's no air leaking in. The vagina shaped silicone sleeve is so soft and cushy, you can very comfortably complete an intense workout where blood is allowed to enter into every facet of your pen*s fully without a sore pubic bone in the process.
Easy to clean
Please wash the pump with warm water only. Soap can break down the silicone and cause your toy to become very sticky. To disinfect it, use rubbing alcohol after the toy has dried; it won't damage your toy, and the alcohol dries quickly as well. When you're done, put a 1/4 tsp of cornstarch in a seal able bag big, turn the silicone sleeve inside out, and put it in the bag to coat with the cornstarch. This will also prevent the pump's sleeve from getting sticky, and will prolong the life of the toy.
Rapid Response: Satisfaction Gurantee
We offer a 1-year sex toy manufacturer's warranty that covers any defects in materials or workmanship. If you encounter any problems with your product within this period, simply cont@ct us through Amazon and we'll be happy to assist you. Our cust0mer service team is available 24/7 and will respond to your inquiry within 24 hours.