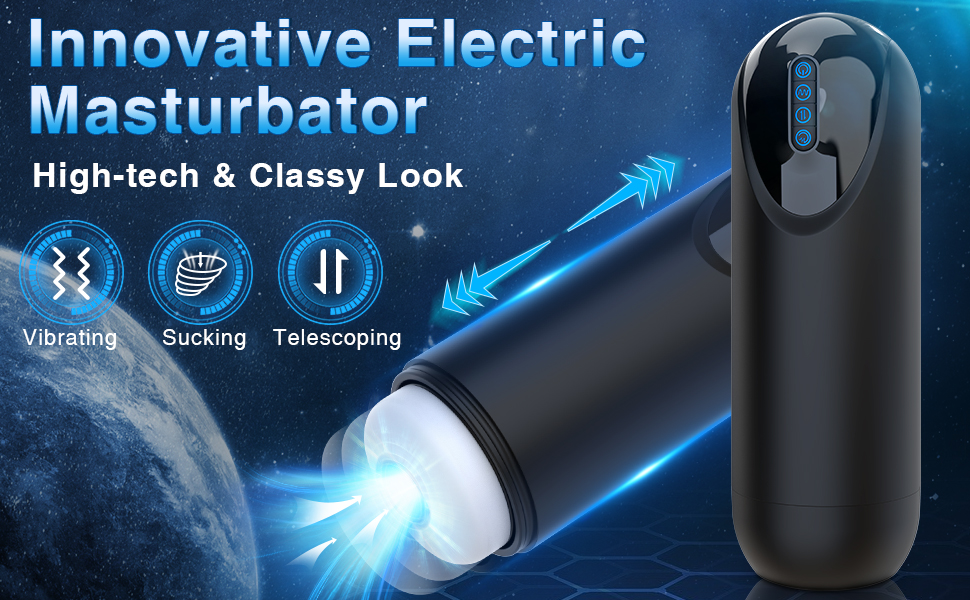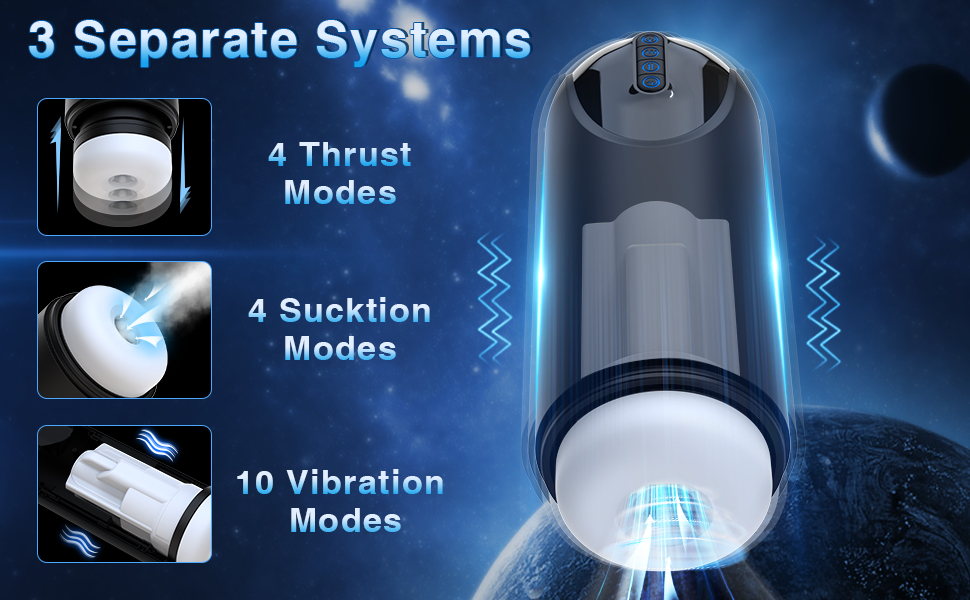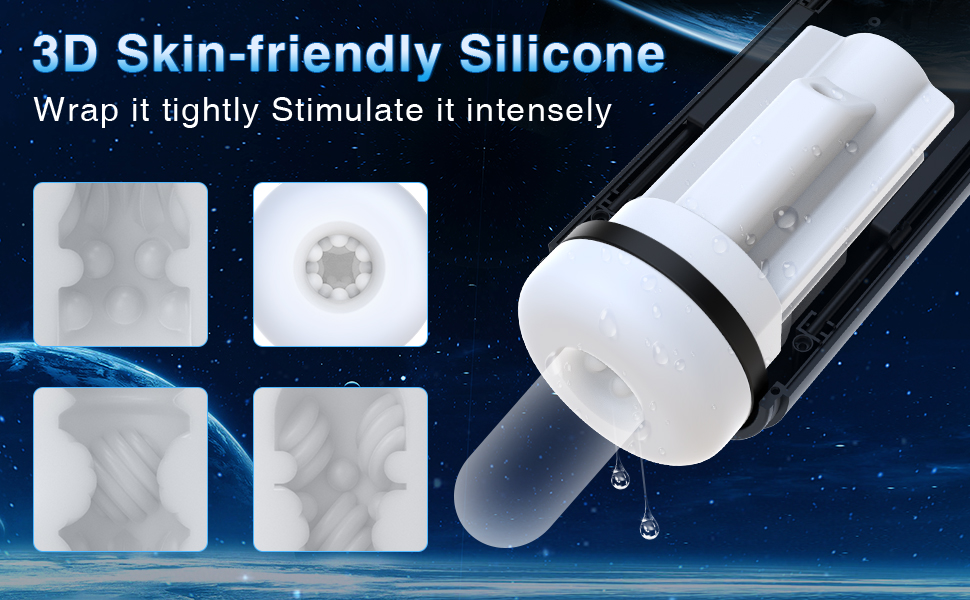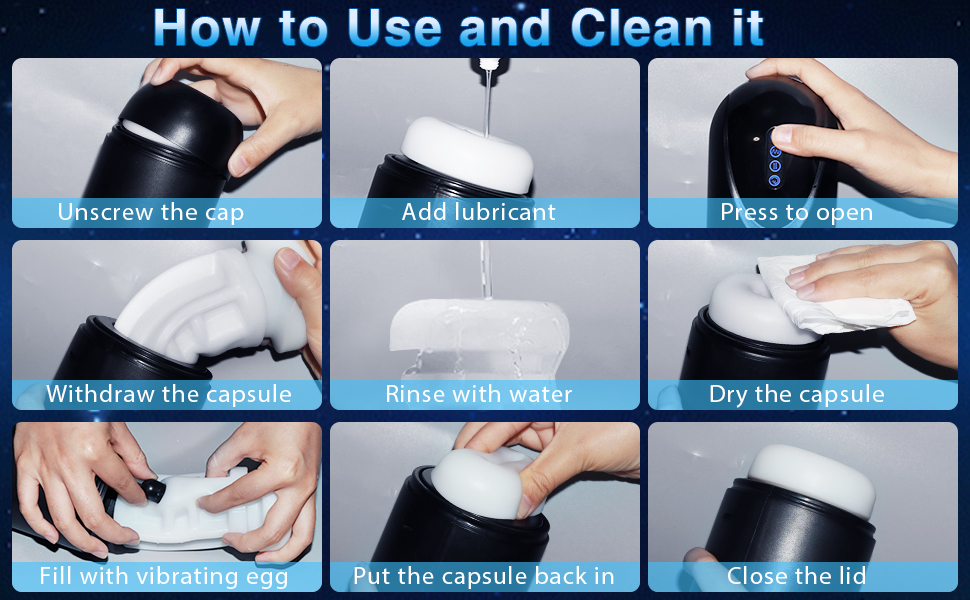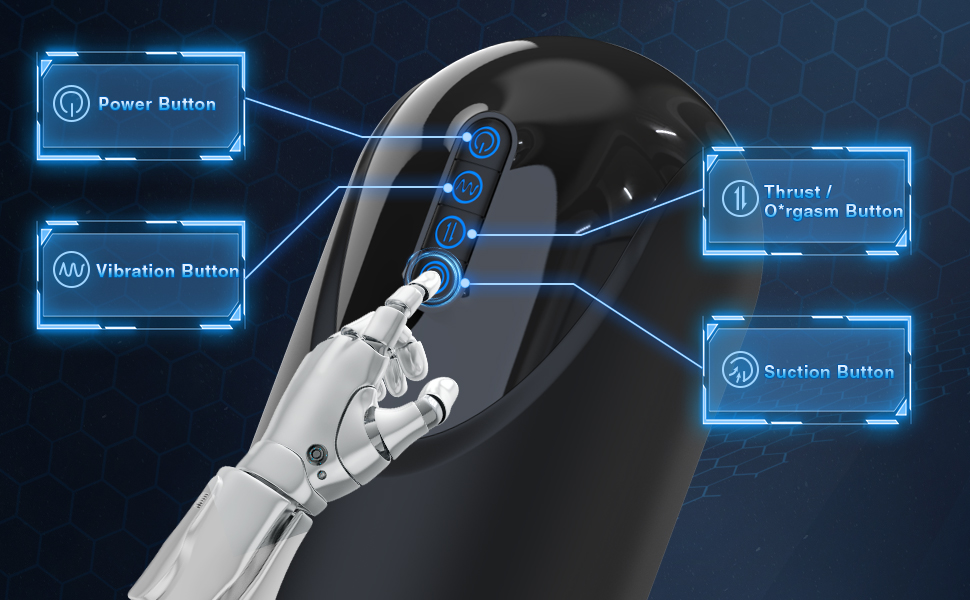 【 XX Innovative Male Masturbators】 With 4 thruting modes, 4 sucking modes and 10 vibrating modes, our male sex toy brings together the features of various male masturbators on the market in what is destined to be a great innovative sex toy with superb value for money! With 3 independent control systems, any combination of functions and frequencies you want, there is always one that will precisely match your needs. This is simply the best choice for beginners and advanced players.
【Realistic 3D Channel】The textures and larger particles in the inner sleeve of our male electric massager simulate a real female vagina, with special bumpy particles and multi-layered folding spirals inside the silicone. The 15cm long soft sleeve comes with an intensive multi-stimulation to better wrap and stimulate your penis, precisely stimulating every nerve and giving you a more arousing experience than real oral sex and penetration.
【Penis Trainer & Double Stroke Orgasm Mode】This automatic masturbator doesn't just satisfy male sexual desires, it's also an excellent penis trainer. Its powerful three motors will give you unprecedented stimulation, and if you can last 5 minutes in the strongest mode, then you can certainly last half an hour in front of your partner! Plus, double-click the THRUST button to reach the strongest insertion speed straight away, making your training even easier!
【High Quality Silicone & Easy to Clean】The male stimulator is made of safe silicone material inside, which is soft and flexible and will not deform when pulled at will. You can easily remove or put on the sleeve and simply rinse with water or soapy water to complete the cleaning. The only thing to note is that please do not let the motor part touch the water. There may be a small amount of odour when it is first opened, this is normal as the odour will disappear after cleaning.
【The Right Size & Elegant Look】Through our research, we have developed a sleeve that fits most European sizes, both in terms of the diameter and length of the sleeve. With its techy shape and solid black design, this masturbator is simple and elegant, looking like a premium smart speaker, but no one will know that underneath its regal appearance is an erotic master that will make you blush.
【Charging & Packaging & Service】 The product is charged by USB and has a charging time of 3 hours and a usable time of 1 hour when fully charged. The electric pussy comes with discreet packaging to avoid embarrassing moments when you receive your item. Your privacy is safe! If the product itself has a non-human fault, please contact us through the contact information on the manual and we will provide you with a free replacement within one year.Why you should definitely try this male masturbator?
Choosing a masturbator that suits you is similar to choosing a quality partner, and our product is best suited to be your lover.
Outstanding Appearance: The exterior design follows a minimalist approach, with the main part in classic frosted black, giving it a subtle and luxurious look. It is also accented in mirror black to break up the monotony and add a sense of technology, making it look like a premium stereo that is unobtrusive even on a desk and can be used as a chic decoration.
Fascinating Inside: This sex toy for men breaks with tradition and features three powerful motors. The 3-in-1 vibrating, sucking and thrusting function wraps tightly around your big guy and applies constant stimulation, just like a sexy partner teasing you all the time. The 3D texture inside allows the silicone masturbator to stimulate and massage you as you thrust, and when you're finished, you're literally sucked dry. A super sensation, as if you can literally feel the moment when the volcano erupts.
Growing with You: it is not only a masturbator for your pleasure, but also an excellent trainer. When you jerk off with this product, you will not only be satisfied, but you will also improve your sex stamina and skills. In suction mode under vacuum conditions, your knob will become longer and harder, as well as bigger. If you can last 5 minutes in the fastest and tightest mode with this product, then you can expect to last more than 30 minutes with any partner. Enjoy a unique experience with the help of this training device!
10 Vibration Modes + 4 Sucking Modes + 4 Telescopic Modes = Unforgettable Sex.
While using it, you will experience different sensations due to the multiple vibration frequencies. From gentle to wild constantly vibrating your Joystick, pleasure will enter your mind little by little. Four different pressure levels provide firm sucking like oral sex and entice your stick to want more stimulation all the time. The insertion function then tightens up and down along your stick constantly, bringing the ultimate in desire. Unlike traditional male masturbation toys that always rotate or just mechanically thrust, this male adult sex toy will give you great stimulation, just like a real sex session.
This male massager has three separate control systems so you can adjust the functions to your liking, whatever your need to use it for, there's always a combination you'll want!
Oral Sex in Its Most Realistic Form
Our masturbator simulates real pressure by means of the vacuum principle, so that the entire inner wall wraps tightly around your big guy. Thanks to the ultra-powerful motor, the soft silicone and the internal grooves, this pleasure device produces a delightful rolling massage that provides extremely pleasurable sensations – just like your partner's sensual mouth. The device takes a deep breath in and exhales slowly, simulating a squeezing sensation in the throat like you've never experienced a sensual mouth before. And once you've opted into the thrusting mode, the scene gets hot and a challenge begins. How long can you last with the constant sucking, thrusting and vibrating onslaught?
Thanks to the high quality safety silicone, you can wash and use it again and again. The product has various small internal protrusions and threads to increase friction and the entrance is designed to prevent leakage of lubricant and water-based body fluids.
The insertable size is 15cm and the silicone is stretchable to suit most men. The Automatic Simulator has a vent that wraps tightly around your big guy 360 degrees while in use, licking and swallowing, the tight fit feels like your partner is sucking hard with their mouth.
Special Construction for Easy Cleaning
After use, the masturbator only needs to be rinsed carefully with a little soap and water. It can also be cleaned with toy cleaner.
Please note that the motor part should not be touched by water, as this may damage the circuitry.
Also, please clean the silicone first when using it for the first time to avoid the presence of a slight smell.
Note:
Please press the power button for two seconds to power on/off, and click can only be used to switch modes.
Be sure to check the manual before use, that can help you solve many problems in use.