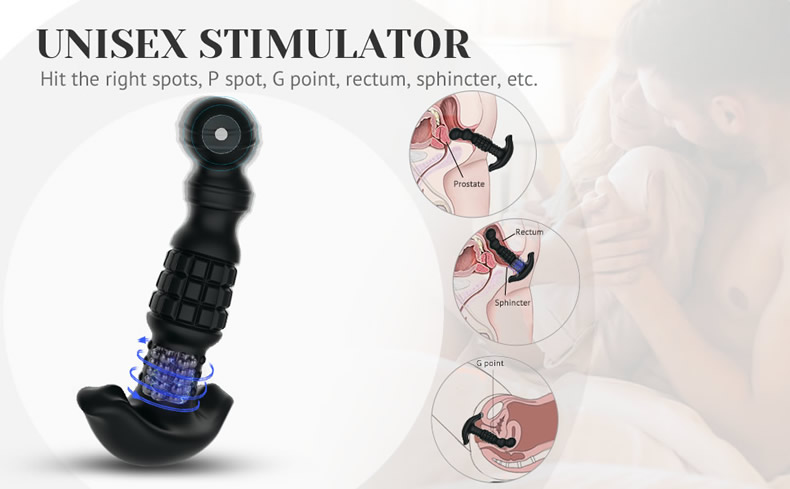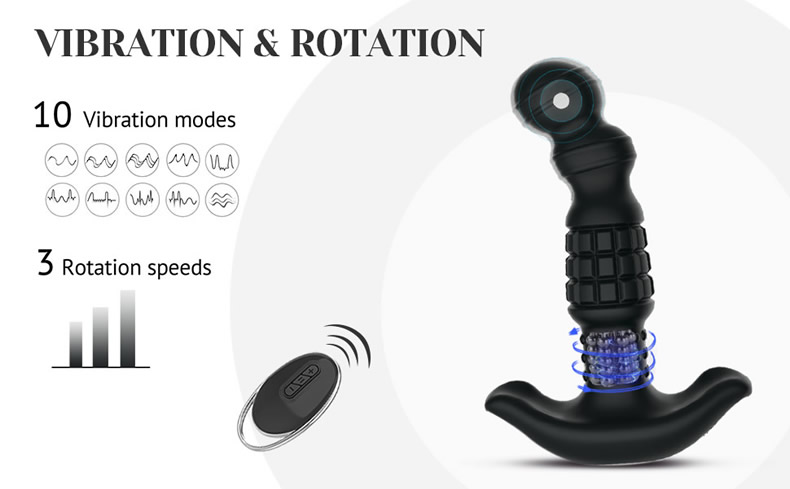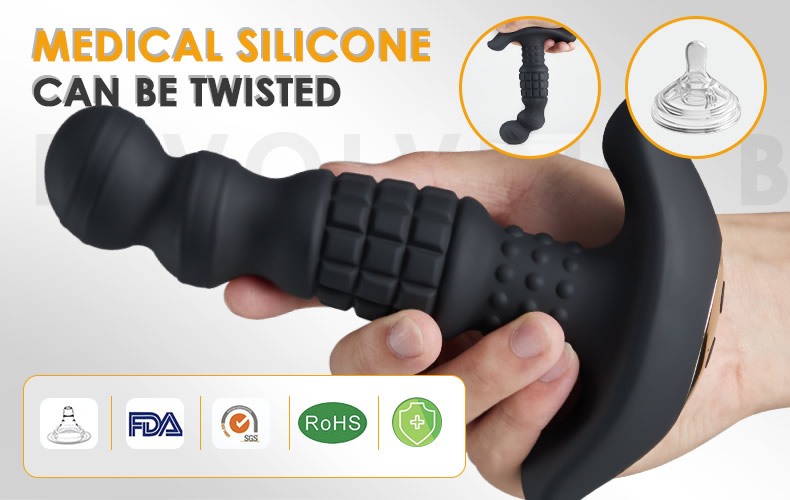 Rotating Beads: Rotating Beads at the bottom will stimulate your anus through 3 speeds and make you scream for it
3 IN 1: Two powerful motors inside to stimulate your prostate, anus, and perineum at the same time
Grenade Texture: Textured external similar to grenade for maximum stimulation
Remote control: Remote control makes it easy for you and your partner to take control
USB chargeable & Fully waterproof & Mute< 40 db
"Prepare to be amazed by the extraordinary 'Pleasure Master Prostate Massager'! Its uniquely curved head, resembling the tip of a finger, delicately caresses your prostate, delivering precision stimulation that will send you soaring to new heights of pleasure. Can you find this level of precise pleasure in any other product?  It is truly a versatile toy! Not only can it be used as a prostate massager for men, stimulating your P-spot, anal sphincter, and perineum, but it can also provide vaginal penetration for women, delivering pleasure that is just as intense as dedicated female vibrators. Both you and your partner can enjoy this toy simultaneously.
"Shhh! Let me unveil a top-secret discovery to you – the 'Pleasure Master Prostate Massager'! This little buddy is your most intimate hidden weapon! It not only brings you exquisite relaxation but also delivers a true physiological feast to your prostate!
Don't be fooled by its small and cute appearance, for it possesses immense power within. Need speed? Hey, we've got three levels of bead rotation to stimulate your anal sphincter, leaving you craving for more! And let's not forget its ultimate skill – ten vibration modes! Like delicate currents coursing through your prostate, it will provide you with tantalizing sensations, ensuring every time is a physiological climax!   The material used is as gentle and skin-friendly as a baby's bottom, ensuring a harmlessly delightful insertion experience. You can rest assured knowing that your intimate moments will be soft, smooth, and utterly enjoyable. No need to worry about any uncomfortable surprises—this toy is all about pleasure without the fuss!